About Big Wide Smiles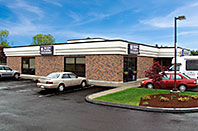 As a family dental practice, our number one goal is to improve on a patient's oral health and appearance. We are absolutely committed to providing individuals and their families with a lifetime of exceptional dental care by understanding their needs, and treating each with the utmost care, comfort, and respect. All staff members at BWS are committed to these principles for we believe that when one feels good about themselves, they have a higher self-esteem and outlook on life.
At BWS we have a thorough understanding of dentistry for people of all ages. We offer not only general services like tooth extractions, crowns, fillings, and
cleanings to name a few, but also pediatric and cosmetic dentistry. Our office is equipped with the latest, state-of-the-art technology and equipment such as digital X-rays which limits radiation exposure, soft tissue laser for therapy and rotary endodontic equipment.
All dental rooms at Big Wide Smiles have flat screen TVs for your comfort. We encourage patients and prospects alike to ask questions, check us out, or simply stop by and visit.
Meet Karen Anne Lunsford, D.M.D.
Originally from Billerica, MA, Dr. Lunsford received her B.A. in Biology from Merrimack College in North Andover, MA. She was introduced to dental science at Middlesex Community College in Bedford, MA where she earned her A.S. in Dental Assisting. She completed her dental education at Tufts University School of Dental Medicine in 1998. After graduation, Dr. Lunsford relocated to Western Mass. where she began her private practice career in Chicopee, MA. In January 2010, Dr. Lunsford founded Big Wide Smiles. She has a vigorous commitment to provide BWS patients with a lifetime of exceptional dental care by understanding their needs, and treating them with compassion and respect. In her free time, Dr. Lunsford enjoys golf and gardening with her husband Michael, as well as spending time with her two cats – Ben and Jake.
---
Meet Our Hygienists
Meet Our Dental Assistants
Meet Our Patient Coordinators
Professional Affiliations
We're a member of the
American Dental Association
Massachusetts Dental Association
Valley District Dental Society